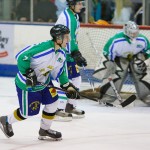 In this section you'll find details of all the Lions' current and past games, from their first season back on the ice (2005/06) up to the present day. If you find any gaps in the details or any links to external sites that no longer work, please do let me know via the Contact Us page and I will add in the information you provide.
Match tickets are £5 for adults and £3 for kids. There's no pre-booking; just come along on the day as there are plenty of seats.
Season 2013/14
Season 2012/13
Season 2011/12
Season 2010/11
Season 2009/10
Season 2008/09
Season 2007/08
Season 2006/07
Season 2005/06
Calendar of games/events
We have a dedicated calendar page on which you can find full details of all upcoming games and other events, such as pre-season trials and open training sessions.