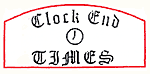 The links shown below lead to a wide collection of articles, press cuttings, match reports and programme excerpts about the Lions – as well as pages from the near-legendary publication that was the Clock End Times. Everything is in PDF format, which means you'll need the free Adobe Acrobat Reader (or alternative) to view them.
My thanks goes to the members of the Clock End Times team who are hopefully pleased to see their work acknowledgeded on this site – Will Freeman, Tony Hinkley, Dave Blowes, Mike Ewer, Dave Annear, Kerim Salih, Ronnie Cee and others. I also thank Tony for sending me copies of the Lions Supporters' Club newsletter, Roar.
Thanks also goes to the late Vesa Pennanen, who provided most of the newspaper reports and programme excerpts available in this section, Sam Alcock for the British Engine newsletter articles and Mikael Uhlin for the Swedish article and translation about Barry Smith. The remaining content has come from my own archives.
Copyright is acknowledged as belonging to the original authors and publications.
Clock End Times – fanzines
Roar – Supporters' Club newsletters
British Engine Newsletter articles
Newspaper Reports
Magazine features
Match programme excerpts
Other Lions articles