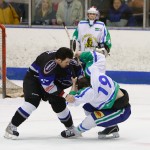 From the start of the 2005/06 season until the end of the 2011/12 season I took literally thousands of photos at Lions' games and many of them are shown here. I have to give thanks to a couple of other people who kindly allowed me to use their images from a few games – Tony Boot and Heather Osborne.
Photos for the 2012/13 season were kindly supplied by other photographers, such as Patrick Ayling, Amanda Grout, Graham Goodman and Beverly Irish, so my thanks go to these contributors for allowing me to feature their shots on the site.
All photos on this website are subject to copyright, so if you would like to use them on your Facebook page etc, please be polite and ask first via the Contact Us page. All I would normally ask for is a link back to this site. Other contributing photographers may have different wishes.
Each album shows thumbnails of each image. To view a full-size image, just click on a thumbnail and it will open on top of the thumbnails. To get back to the thumbnail screen, either click once on the full-size image or press your Esc key.